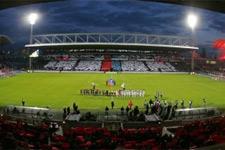 This Sunday will see the 11th edition of the Trophée des Champion in its current format. There was no match in 1996 because the France champions and the Coupe de France winners were the one and the same: Auxerre...
In 1995 the Trophée des Champions was resurrected. PSG (with Paul Le Guen) defeated Nantes on 6-5 penalties after the game had ended 2-2. In the ten matches, their have been just four winners: PSG twice ('95, '98) from three finals ('95, '98, 2004); Nantes twice ('99, 2001) from three finals ('95, '99, 2001) and Monaco twice ('97, 2000) from two finals. OL holds the record for victories with four consecutive wins from 2002-2005...

OL and PSG have already let in the official French league curtain-raiser: On July 31, 2004 in Cannes. The match finished in a 1-1 draw (goals to Elber and Fiorése) and the Olympians won 7-6 on penalties. Alonzo, Mendy, Yepes, Armand, Cissé, Rothen and Pauleta were all in Coach Vahid's squad at the time. Coupet, Réveillère, Cacapa, Abidal, Berthod, Juninho, Govou and Malouda were all in the OL squad. Most of OL's World Cup players will be absent on Sunday, meaning Coupet will not have the chance to lift the Cup for a fifth consecutive time - he is the only Lyon player to have won all four to date. Juninho, Diarra, Malouda, Govou and Cacapa have all won three.

Lyon's victories:
- 2002 v Lorient 5-1
- 2003 v Auxerre 2-1
- 2004 v PSG 1-1 (7-6 pens.)
- 2005 v Auxerre 4-1.