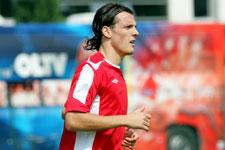 Having arrived a month ago, Sébastien Squillaci takes time out to discuss his new club, Sunday's Trophée des Champions as well as his future with the France team...
Sébastien, how is pre-season going?
We've worked really well and on a personal note, my integration has gone very smoothly. All the new players have been made very welcome and we've won all of our friendly games. Even if those wins don't mean a whole lot, it's still better to start with a few wins. Living together in Tignes was great to get know each other better, but matches are where we'll really know how to play together.

How is the team form in general?
All's well. Physically the squad is in great shape. All is in readiness for Sunday and we've really had a good pre-season. The last two training sessions have been a little calmer, based more on recuperation. From Sunday, the serious stuff starts.

You've been at Lyon for a month now, is there anything that has surprised you in this team?
No. I knew it was a quality team. There are very good players in every position. We see it at every training session, and now with the return of the internationals every day, it's even more obvious. It really is a quality squad. It should see us fighting on all fronts.

Is the playing style different to what you've known before?
No, for the moment I haven't seen too many differences. As a defender, Monaco and Lyon play the same way. Over the course of the pre-season matches I've played with Lamine Diatta, Pat Müller, Claudio Caçapa. Everything has gone well. We have to talk a lot to get the understanding but slowly but surely I'm finding my marks.

Can we say this first official outing is a 'Big Game'?
Absolutely. It's n important match for everybody, especially for us, the players. We want to win this trophy. To start with a win in the Trophée des Champions would be a great thing.

What do you think of PSG and their summer buys?
They've made some good signings. We know the individual talent of PSG and we know that the club has players capable of making the difference at any given moment. They are a big team in France and it won't be an easy match. You can never tell at the start of the season how their league campaign will go but today you can say they have a quality line-up.

The France team is still one of your aims. Is Lyon a step towards that in your opinion?
OL are five-time consecutive French champions. When you play for Lyon you can obviously consider yourself a chance to play for France. To play for France I have to play for my club. Once you've played for your country, you always want to do it again.