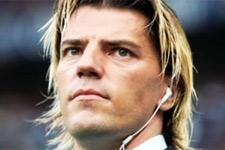 One day ahead of schedule, Grégory Coupet was back at Lyon training... and what an impression he made!
Tanned, long coloured hair, the toned body of an elite athlete... Greg was back at training and it was like he'd never been away. Eight laps of Tola Vologe with Rémi Garde, and then on his own. The 'keeper was setting a very good pace. After a few minutes rest it was onto the synthetic pitch for a special work-out alongside Cris. Jumps, sprints, resistance... attacked with the utmost determination. Obviously these boys didn't spend their holidays just lying on a beach! Drenched from head to toe, the international goalkeeper showed he is not lacking in motivation for the new campaign. And if he had need of a helping hand, the spectators present at Tola Vologe on Friday morning would have supplied it.

While the Puy native worked, he teammates had a work-out with Robert Duverne before joining Patrice Bergues for some tactical work on the set pieces. Paillot, Faussurier, Idangar, Hima, Hartock and Bettiol all trained with the CFA reserve team. Mounier is still limited by his sore back. And Fred who arrived a little later. Beynié and Rémy however were working with the pro squad. The 18-man squad for PSG would appear to be settled...