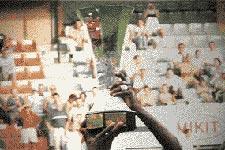 4 friendly matches: 4 wins; 12 goals scored; 2 goals conceded; 22 players used; 8 different goal scorers. The series of pre-season warm-up games ended on Tuesday evening in Villefranche. Now the business begins with the traditional season curtain-raiser: The Trophée des Champions
It's become a habit for Lyon now to begin every season with the Trophée des Champions... It means that OL have won one of the two main domestic titles from the previous season… OL has been playing in this match since 2002 and has won every time…

July 27, 2002: OL 5-1 Cannes
July 26, 2003: OL 2-1 Auxerre
July 31, 2004: OL 1-1 PSG (OL wins 7-6 on pens.)
July 27, 2005: OL 4-1 Auxerre
Violeau is the only player to have won the Trophée des Champions with OL and then played against OL with another team in the same fixture... Will the Parisian Frau join him this Sunday...?