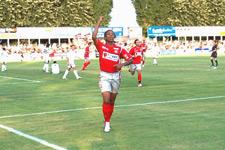 Check out what Gérard Houllier and Loïc Remy had to say after Lyon's 2-0 victory over PAOK Salonika on Tuesday...
Gérard Houllier: We've maitained our winning ways. For us, getting the right result is always important, even in friendlies. We can see we're getting stronger even though we're going through the most critical part of the pre-season. For the moment it's an advantage not to have everybody available. It gives us a chance to see the young players like Remy, who was spectacular this evening. He beats people and he's quick – those are two international qualities. He is a very promising player for the future. You can really feel the freshness and determination amongst the young players. As for the Trophée des Champions, that's not just another warm-up game for me. We want to play well against PSG.

Loïc Remy: My goal? It came after Berthod broke down the left and cut the ball back to me. I controlled it and then hit it on the volley out of the 'keeper's reach. It's my first goal with the pro team and I hope there will be plenty more to come. That's what I'm working towards. I didn't go on the camp at Tignes, but I didn't let that get me down… indeed I worked even harder to make up for it.