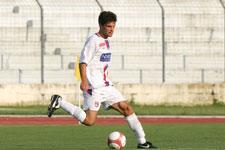 The Olympians registered an entertaining 3-2 victory away to the Royal Charleroi Sporting Club on Saturday. After just 15 minutes of play, Gérard Houllier's side had raced to a 3-0 lead thanks to goals to Ben Arfa (5'), Toulalan (11') and Källström (15').
Houllier started with the following XI: Vercoutre, Réveillère, Squillaci, Caçapa, Berthod, Clerc, Diarra, Toulalan, Källström, Ben Arfa, Carew.

Substitutes: Riou, Beynié, Hima, Remy, Diatta, Idangar, Pedretti.

Anthony Mounier, who received a knock during training, was left out.

Charleroi: Laquais, Defays, Kere, Ciman, Dante, Camus, Chabaud, Oulmers, Orlando, Habibou, Akpala.

In front of nearly 3,500 spectators, Olympique Lyonnais didn't take long to get into their stride. After a first effort from Källström (3'), Hatem Ben Arfa opened the scoring, finishing off a flowing team move. On the right, Carew released Kallström who cut the ball back to Ben Arfa whose shot into the top corner left the Charleroi 'keeper no chance (5').
Just minutes later and Vercoutre saved his side's advantage before Clerc found Toulalan on the edge of the Begian six-yeard box for number two (11').

Obviously in form, Källström scored goal number three on the quarter-hour. He beat one one, got a lucky rebound before beating Bertrand Laquais with a shot from the edge of the area (15').

Jérémy Toulalan had another shot on 24 minutes and Fabien Camus saw his effort saved by Vercoutre (26').

At the start of the second half, Romain Beynié and Benoît Pedretti were introduced at the place of Källström and Toulalan.

OL 2nd Half XI: Vercoutre, Réveillère, Squillaci, Caçapa, Berthod, Clerc, Diarra, Pedretti, Beynié, Ben Arfa, Carew.

After the hour mark, Houllier replaced Berthod with Idangar (60') and Carew and Diarra made way for Remy and Hima (65').

From an Orlando cross, cleared with the help of the crossbar by Caçapa, the ball feel kindly to Akpala who headed in the rebound on 65 minutes.

Diatta came in for Réveillère (70'), Orlando then crossed from the left for the substitute Akgül, who pulled a second goal back for the Zebras, unmarked at the back post (83').

Despite the Belgian side's late rally, Lyon held on for their third win in as many pre-season friendly games. On Tuesday they take on PAOK Salonika in a final warm-up match before next Sunday's Trophée des Champions against PSG.