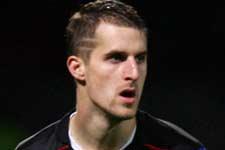 After an exhausting training camp in Tignes, François Clerc underlines the importance of Sunday's friendly match against Charleroi and talks about his ambitions for the coming season…
The team seems to be getting right down to work. We can feel that the pre-season is accelerating now with a tough friendly game this weekend…
That's true. We're starting to do a little less endurance work and starting to work on spped and power. That means the competition is getting closer. That will start with this weekend's match against Cherleroi, which will be a good test and help us measure our progress and help us keep preparing. It's an important match and we'll need to be ready.

How is the team, and François Clerc, in particular, feeling physically after the week in Tignes?
The team is well. We worked really well in Tignes. We really did have a good camp. It's restarted very hard and perhaps the team's a little tired, but we have to fight through it for the rest of the season. Personally, everything is going well. Tignes was more or less good for me. I'm a little tired all the same, but that's normal. We're starting to recover and I'm sure everything we'll turn out fine.

Is this season one of confirmation for you?
I hope so. Everything went so well in the second half of last season so I hope that continues this season. At any rate, I'll be doing everything I can…

What are François Clerc's aims for this season?
To play as much as possible. But above all, my goals are collective with the desire to have a really good year with the team and win as many trophies as possible.