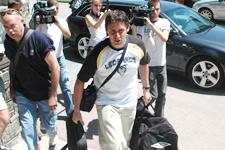 They've arrived! It was 13:20 on Tuesday afternoon when Rémi Garde, Kim Kallström and Robert Duverne arrived at the Hôtel Montana.
Robert is obviously all smiles. "It's time to get stuck into the pre-season," announced 'Bob' upon taking possession of his key. "Like always, it's room no.211. That's been my room since I've ben coming to Tignes." Before he'd even settled in he's already getting ribbed by Vercoutre, Abdel Redissi, Pedretti and Frau. There's lots of back slapping and hand shaking which continues with the return of Gérard Houllier. "It's good to be here," admitted Robert. A little further along and the staff table welcomes their colleague with an ovation. "Everyone rise for Robert," someoine says before Patrice Bergues asks "can we shave his head now?"

Robert can finally have a chat with the staff. For Källström: "I'm happy to be here, to meet my new teammates and do this camp. Of course I'm still a bit tired from the World Cup, but I've got everything for OL, I'm 100% with my new club. The World Cup? We're happy with our tournament despite the terrible match against Germany."