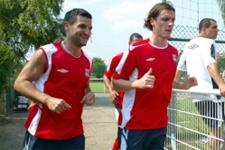 Pierre-Alain Frau will soon be joining his former Sochaux coach Guy Lacombe at Paris Saint-Germain.
Olympique Lyonnais and PSG have reached an agreement concerning the transfer of Lyon striker Pierre Alain Frau. He will undergo the traditional medical examination on Wednesday morning before officialising his move to the capital.

Pierre-Alain Frau:
Pierre-Alain, so your heading to the capital?
Yes, the two clubs reached an agreement this morning and if the medical goes well I'll be with PSG for the next four years. I'm happy, it was my choice. The fact that Guy Lacombe is the coach there was a factor in my decision. I'm leaving a great club for another great club. And I'm leaving on good terms with everyone.

What position will you be playing?
I think I'll either be playing on the wing or in the middle depending on how Guy Lacombe wants to play.