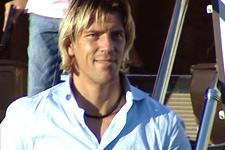 After the disappointment of losing the final on penalties to Italy, Lyon's French World Cup stars were the lunch guests of president Jacques Chirac at the Elysée on Monday afternoon before returning to Lyon in the evening.
On Monday evening at 20:40, four of Lyon's five Blues plus Robert Duverne all flew into the Lyon-Bron airport with the only absentee, Florent Malouda, having gone straight to Guyana.

Eric Abidal leading the way, appeared relaxed and clearly delighted to be back inhis home town. Along with his family, Grégory Coupet was all smiles.

The players then said their goodbyes after more than a month of communal living and headed off on three more weeks of well-earned holidays.

No break, however, for Robert Duverne, Olympique Lyonnais' physical trainer, who heads straight for Tignes to meet up with Gérard Houllier and his squad at their pre-season training camp.