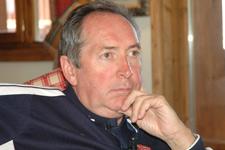 Gérard Houllier has opened his account with the media for the new season. Delighted to be back in Tignes, a symbolic place for OL, he has already fixed his gaze on a sixth successive league crown...
So Gérard, here we go again…<br /> "It's important to come here to Tignes. This place is incredibly symbolic. The goal? It's both physical and mental. It allows the squad to get together and for the new and young players to fit in. The absence of the internationals? That means that some of them went a long way in the World Cup. We know that the start of the season will be a little complicated, but that's what a great club is all about. It's a shame that the French league starts so early as I would have preferred another week to prepare. Will still would have been the league which started the earliest. We have officially asked the league to postpone the match against Nantes."

How has training been going? "Very well. The squad has been training since July 3 and I was very happy, for several reasons with our match against Dijon, despite the tiredness and I think it was very symbolic that our first goal of the season was scored by a youngster. Our preparation this season will be in stages and not like previous campaigns. We'll do what we can to be ready on a certain date. The new players? They're already right at home."

A world on the World Cup?
"We always keep learning when you're passionate and open. I learnt a lot about football, about management. I was surprised by the presence of psychologists in a number of teams. I don't really believe in what that can add. As for Zidane? I understood immediately. When you're under that much pressure, sometimes you can snap. In doing what he did, he somehow became more human. A winner sometimes reacts like that. It's a shame that it happened in the final. But then, every player knows they have to control even when it's not always easy… "

And Robert Duverne's role with the France team?
"With OL, I have total confidence in him. It's a reciprocal thing. I knew that Raymond Domenech wanted to have him on board and for certain players he was the most important recruit at the World Cup."

Gérard, what is you number one goal for the season?
"A sixth title. Nobody in a major European championship has ever managed it. That's the club's No.1. The league is the reference point. You can't marginalise the worth of the title – I can assure they aren't easy to win. After that, there are the various Cups. That's different because it depends more on draws and injuries and suspensions. I remain convinced that we would have beaten AC Milan if we'd had the second match at home. You can't plan your season around the Cup competitions. The aim is simply to go as far as you can."

You didn't take any holidays this summer. How do you feel?
"Really good. When you are a coach at the highest level and you're passionate, you can't miss the World Cup. And anyway, I still got a few days off... "