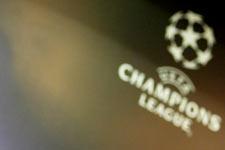 The curtain may only just have come down on the 18th World Cup, and already, Europe's premier club competition gets underway on Tuesday with the Champions League first preliminary round.
If Olympique Lyonnais is already assured of its place in the group stage of the competition for the seventh season ina row, the 14 sides in action tonight have little chance of imitating Liverpool FC and Artmedia Bratislava, the only two sides to make it all the way from the first qualifying round to the groups last season.

The opening round continues tomorrow with the return matches to be played on July 18 and 19. The second preliminary round is scheduled for July 25/26 and August 1/2. The third round, for August 8/9 and 22/23, will also see some big gins enter the competition such as FC Arsenal, losers in the last final.

The draw for the eight groups of four - including Olympique Lyonnais - will take place in Monaco on August 24. The goal for the 32 teams that qualify for the group stage will be to qualify for the final in Athens on May 23, 2007.