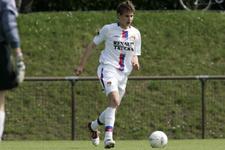 Of the players currently on camp, five had a special week: Anthony Mounier, Romain Beynié, Rémy Riou, Julien Faussurier and Sandy Paillot all graduated with their baccalaureates.
Their acheivements are all the more impressive when you consider just how charged their end of season was with the CFA Finals, a Gambardella Cup final and a European Under 19 Championships.

For Olympique Lyonnais, who has always insisted on strong academic results, the 100% success rate is a great satisfaction and also a great achievement for the current Youth Centre.