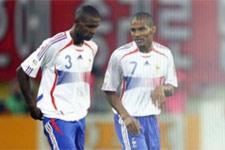 With an unstoppable drive, Fabio Grosso brought the curtain down on the 18th World Cup. In the end, it was the Italians that walked away with football biggest prize and the five Lyonnais in the France team couldn't become the club's first-ever world champions.
Despite the massive disappointment that accompanied France's final defeat, a quick look at the Lyon players' performance in the World Cup shows the club can be proud. We could even have hoped for eight OL players in the final had the French not sent Brazil's Juninho, Cris and Fred home in the quarter-finals.

While no Lyon players managed to get their hands on the ultimate trophy, there were five that finished on the second step of the podium (Eric Abidal, Florent Malouda, Sylvain Wiltord, Sidney Govou and Grégory Coupet) while Portugal's Tiago finished fourth.

After such a bitter end, a special mention should be made to Malouda, whose stunning display over 120 minutes in the final earned him a '7' in L'Equipe: 'a great performance'. He ended the tournament with six starts under his belt and 507 minutes of playing time.
The Lyon left-back was a great performer throughout the World Cup: Eric Abidal was the most played Lyon player in Germany, playing every minute (570) of the six matches he started.
Having started against South Korea, Sylvain Wiltord played 205 minutes of football in Germany and played in all seven France games.
Considering he wasn't in the original squad of 23, Sidney Govou's 70 minutes on the field were a great bonus and reward.
Unfortunately, Grégory Coupet never got the chance to stand between the sticks for France.
The same went for Brazil's Cris, who remained on the bench for the entire tournament. His compatriot Fred had a little more luck: he played all of two minutes but still managed to score one goal.
The other Lyon goalscorer in Germany was another Brazilian: Juninho. With his stunning 30m strike against Japan, Juni made two starts and played a total of 192 minutes.
Before the semi-finals, Tiago had played some part in all five of Portugal's matches for a total of 265 minutes, but Luiz Felipe Scolari elected to leave the OL midfielder on the bench for the final two games, both lost by the Lusitanians.
Two other Lyonnais were also on view: Switzerland's Patrick Müller and Sweden's Kim Källström earned 375 and 228 minutes on the pitch, repectively.
Eric Abidal received two yellow cards while Florent Malouda received a booking during extra-time in the final.

It would be impossible not to mention France's physical trainer. The superb performance of Les Bleus throughout the World Cup was due, in no small part, to OL's trainer Robert Duverne.