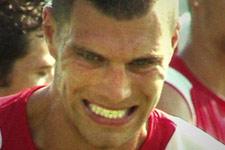 Rémy Vercoutre gives us an update on pre-season training and talks about the upcoming training camp in Tignes. He also reveals the reasons why he wants to extend his current deal with OL, a club he loves…
Rémy, a word on pre-season training. How's it been going?
Personnally, it's going really well. We're just getting back into the rhythm with Guillaume 'Toto' Tora. The weather conditions are making it a little hard. Like every season, we know we're going to suffer. We'll try and adapt to training sessions.

Have you followed you holiday program set out by Robert Duverne.
Without lying, most of it. But not everything. It's not always easy to do everything Robert wants during you holidays but I did try to do most of it. At any rate, it's reduced the amount of pain I'm feeling now.

Is pre-season for the goalkeepers different? Is there more weights and physical work?
No, for the moment we're on the same schedule as the others: laps of the field and races. Soon, Joël Bats will take us in charge for more specific training later this week as the friendly matches get closer. But for the moment we're playing with the ball with the others, passing games and lots of running to get into shape.

The friendly matches are getting closer, but so is the training camp in Tignes. Are you getting impatient for that?
Impatient? That's an interesting choice of word! Tignes is a great time of suffering. It's already hard mentally because we're a long way from our family. There, it's the mountains and we know it's going to be torture especially riding up Mount Iseran. But we're ready. We have to do it to be ready for the whole season. The trip to Tignes is one of the most important dates of the season. I twill also help us get to know each other a little more and welcome the new youngsters into the squad as well as the two new players.

On a personal note, where are you up to with your contract?
We're still talking. I have to see the president again to see exactly where things are at but we're advancing slowly but surely. I think we're on the right track. I'm pretty optimistic. I want to stay because I've still got the desire. My wife and kids like the city and I like the club. We want to keep the adventure going and win a lot more titles.


---
[IMG40718#C]