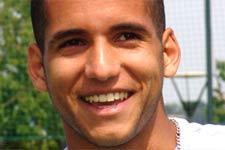 Mourad Benhamida, who only turned professional this season, talks about pre-season training with the pros, the training camp in Tignes and his optimism for Les Bleus in their World Cup semi-final against Portugal...
Mourad, how has training been going?
Pretty well. It's a bit tough in this suffocating heat, but overall it's going well – we're working well. We'll see in the next few days how it comes on.

There are a number of youngsters in this squad, does that make training a little easier?
It's true that there are a number of young players in the squad and between them and the old players, everything is going well. We fit in really well. We're also working with a physical trainer that we know very well: Toto (Guillaume Tora). He's working us really well and under his guidance we hope to continue to improve.

You're then heading off to Tignes before the Trophée des Champions. It's a great opportunity for you to show what you're worth...
I hope so. We're all here to fight our way into the squad. It's with that goal that we train so hard. We'll see how the camp and the friendly matches go. The number one priority is to do a good pre-season and training camp.

Have you already discussed Tignes?
Yeah, more or less. I know that it's going to be pretty hard and that we'll work well. We'll also be working with Robert Duverne. And for the young players that don't know him, there will obviously be a little pressure and stress, but I'm sure it will go well.

Have you been following the World Cup?
Yes, I've been watching at least one game a day, especially France. The team has been getting better and stronger as the competition has gone on. It was a little timid at the start but now I think it can go a long way, at least to the final. If France can play the same way as against Brazil then they should find themselves in the final.

During the World Cup, have you been following the Lyon players especially?
Yes. I've seen a lot of Eric Abidal and Florent Malouda, the two Lyonnais with France who have seen the most playing time. Sidney Govou has also made some good appearances off the bench. I also saw Patrick Müller play during France-Switzerland.