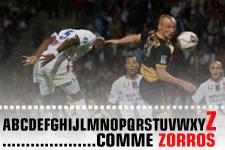 It's time to learn your ABC with one new letter every day. Today's it's the final letter of the alphabet, Z… as in Zorro! And there was plenty of 'Zorro' this season…
The following men were authors of performances this season which can only be described as being in the same league of style and daring, as the legend Zorro. Cacapa by scring the winning goal against Nancy with a last minute header. Coupet against Nantes, where he single-handedly denied the Canaris a goal with a series of exceptional saves. Cris' late double to secure the points, 2-1, against Troyes. Govou by lashing home an incredible volley against Marseille. Wiltord, who equalised against Lens in injury time. Govou against Olympiakos and the decisive goal just 60 seconds from the end. The same goes for Fred versus Rosenborg.

But one mustn't forget Juninho against PSV Eindhoven, whose free-kick opened the scoring and the doors to the quarter-finals. Coupet, who won his battle with Shevchenko in the first leg against AC Milan. Cris and Govou who equalised and then one against Ajaccio in Coupe de France extra time. Juninho, again, v Bastia; a missile that booked a place in the Coupe de France quarter-finals. Coupet's first half performance v Troyes. Coupet v Bagayoko. Coupet v Diané. Carew and the hat-trick in the Trophée des Champions. Juninho with a goal and an assist v Rennes and Auxerre in the league, or against Real and Olympiakos in the Champions League. Juninho and that unbelievable free-kick against Ajaccio. Juninho whose passing created the only goals against Troyes, PSG and Toulouse.

And there there was also Gérard Houllier's very own Zorros. Like against Bordeaux when he made all three changes on 62 minutes with the game almost lost: Malouda, Govou and Clément made way for Fred, Tiago and Wiltord, with the latter equalising two minutes later. Or when Fred replaced Carew against Nantes and scored right at the death.

And then, there was the entire team's Zorro mentality: a sacred weapon which more than once saved an apparently lost cause.