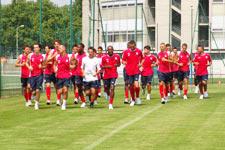 On Monday, July 3 at 15:30, the Olympique Lyonnais players began their 2006/07 season with three laps of the playing field. The flesh out the group, still missing their World Cup teammates, several young players from the reserves were called up.
With Robert Duverne currently away fine tuning Les Bleus for their World Cup semi-final, it was Guillaume Tora, the reserves physical trainer that ran proceedings.

The fans that withstood the boiling temperatures would have noted the returns of Yacine Hima, from Châteauroux, and Pierre-Alain Frau from Lens. But the focus of everyone's gaze was Jérémy Toulalan and Sébastien Squilacci who discovered Tola Vologe for the first time.

After a short jog, the squad slpit up to complete the warm up: running on the spot, running backwards and groin stretches. The players then ran around both pitches, repeated the exercises before heading for a long run.
Upon their return they split into three rotating groups: jumps and footing, slaloms and rapid stepping off both feet.
16:30: Out come the balls: the squad then played a match of two halves, looking to keep possession with a maximum of two touches.
The session ended with the traditional stretches.

Only Benoît Pedretti remained indoors.

The players will no have two training sessions perd ay (9:30 & 17:00) for the remainder of the week.


---
[IMG40717#C]