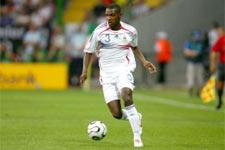 With pre-season training getting underway on Monday, the only players missing are OL's World Cup participants. They're either on holidays (Müller, Källström, Juninho, Fred, Cris) or still in the competition(Coupet, Abidal, Malouda, Govou, Wiltord, Tiago).
Not everyone, obviously, enjoyed the same amount of playing time. Cris has returned to Brazil without once making it onto the field in Germany. Coupet, for the moment, is in the same boat and not withstanding an injury or a red card to Fabien Barthez, chances are he will join his Brazilian teammate. As for the nine other Olympians, excluding stoppage time, they range from two minutes for Fred to 375 minutes for Müller. Abidal (360 minutes) should overtake the Swiss defender; Malouda (318 minutes), or even Tiago (265 minutes) could also follow in Abidal's footsteps. Sweden's Källström disputed 228 minutes; Juninho 192 minutes. While Wiltord and Govou both have the chance on improving on their respective totals of 171 and 42 minutes.

Tiago and Wiltord have taken part in five matches; Müller, Abidal and Malouda 4. The last three have started every game they've played in. Only Abidal has not been replaced.

As for the goalscorers, only Juninho and Fred troubled the scorers. In terms of disciplinary matters, only Eric Abidal has received an 'administrative sanction' with two yellow cards.