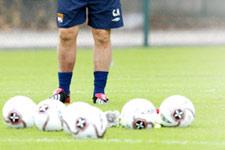 Gérard Houllier has a 15:00 rendezvous with his players this Monday for the start of pre-season training at Tola Vologe.
Pre-season training will start at 15:00 this Monday, July 3, for all the Lyon players that did not participate in the World Cup.

The squad will comprise the following players:
Hatem Benarfa, Mourad Benhamida, Karim Benzema, Jérémy Berthod, Grégory Bettiol, Claudio Cacapa, John Carew, Jérémy Clément, François Clerc, Mahamadou Diarra, Lamine Diatta, Pierre-Alain Frau, Joan Hartock, Yacine Hima, Sylvain Idangar, Benoit Pedretti, Anthony Réveillère, Rémy Riou, Sébastien Squillaci, Jérémy Toulalan and Rémy Vercoutre.
Please note the inclusion of two of Lyon's new recruits, Jérémy Toulalan and Sébastien Squillaci who will meet their new teammates for the first time.

This squad will be re-enforced with the addition of four youth team players: Sandy Paillot, Romain Beynié, Julien Faussurier and Anthony Mounier.

Therefore, there will be a 25-man squad at Tola Vologe on Monday afternoon.