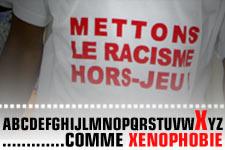 It's time to learn your ABC with one letter a day… Today it's time for X… as in Xenophobia.
Just like last year, X is associated with the term Xenophobia. It's a repeat performance but not a happy one, because year after year the same can be said: far from disappearing from our national stadia, xenophobia is still present in our grounds. Hatred of foreigners has no place on the football field, but it finds an unacceptable and intolerable place in the stands. Most frequently seen on the verbal attacks on foreign coloured players, xenophobia in football is racism in its most simple and unconscionable form.

On August 10, 2005, during the final qualifying round for the Champions League between CSKA Sofia and Liverpool, Djibril Cissé was perhaps the first player to be the target of monkey cries from the terraces. This stupid and inpermissable practice would be repeated at the expense of the Ivorian defender Marc Zoro, playing for Messina away to Inter Milan on November 27, 2005, Rennes coloured players were targeted in Ajaccio on January 7, 2006, as was Barcelona's Cameroon international Samuel Eto'o against Zaragoza on February 25. One can't forget the fascist salutes of Paolo Di Canio against Livorno and Juventus on December 11 and 17, 2005 which earned the Lazio forward a… one-match ban.

In the face of such atrocities, the European Parliament reaffirmed on March 15, 2006, that "a human beings fundamental rights can not be abused during a sporting event", and condemned "all forms of racism associated with football" and encouraged "the national governments and football authorities to take concrete action against racism in football."

On March 17, 2006, FIFA decided to "send out a strong sign", by modifying its disciplinary code. "The sanctions will be match suspensions and the deduction of points (three for a first offence and six for a repeat offence), and relegation or disqualification of an antire club should the offences persist."

Heavy penalties, but only the first step in eradicating this gangrene on football. We hope that these initiatives have the desired affect and that the letter X, will rediscover a more footballistic association in future.


---
[IMG40705#C]