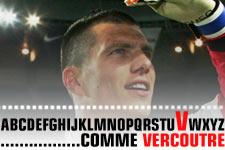 It's time to learn your ABC with one letter per day during the off season. Today it's time for V… as in Vercoutre.
Understudy goalkeeper behind the imperial Grégory Coupet, Rémy Vercoutre played in four matches last season for a sum total of 322 minutes of playing time (120 v Nantes, 90 v Rosenborg, 22 v PSG and 90 v Lille).

The native of Grande-Synthe, who didn't hide his frustration at not winning the league title last season was delighted at being able to put the winners medal on his mantelpiece this time around. It was a third winners' medal, more than merited for this model of professionalism. Any supporter that made his way to Tola Vologe last season would have been astonished by the desire and commitment shown by this man in each and every training session with Joël Bats. Just as Juninho's impresses with his motivation and hard work in practising free-kicks, Sylvain Wiltord surprises with his incredible refusal to accept defeat and Grégory Coupet never relaxes in his unalterable energy in physical work-outs. In the image of Juni, Nino and Greg, the 'keeper who came through the ranks at Montpellier, perfectly symbolises a Lyon team that simply detests losing.

A great character in the changing-room, Vercoutre amazes with his 'joie de vivre' and his unerring sense of the spectacular: "I'm always part of what's going on within the squad." From his teammates in buses or planes, to the 20,000 fans that came to the centre of town to celebrate with the team, everyone lifts their hands to the heaven when Rémy takes the microphone and proclaims: "I want to see all the hands in the air!" His side kick in the changing-room is Mahamadou Diarra, who is always on hand to play out a new role, Eric Abidal, the impersonator and Cris is always up for a practical joke or two. Whether it's Djila, Abi or the Policeman, the former Montpellier shot-stopper is a symbol of the joy that resides within the OL squad.

[IMG40702#R]A team is more than just the starting XI, as Vercoutre showed when he came in against PSG to replace a Coupet, injured by Bueno and obliged to leave the field. Rémy made several fine saves that ensured a prestigeous victory just 12 hours after being crowned hostoric champions.
In the same vein, Pedretti, Fred and his 17 goals, Carew and his 15 goals, Clerc and his incredible rise to prominanence, Wiltord and his 14 goals or Govou with his six assists, sum up how the rotation system underlined the quality in Gérard Houllier's squad. You can never have too much of a good thing. Just as Claudio Caçapa goals against Nancy, Rémy Vercoutre superbly symbolises a side driven to just one goal: victory.

"I have to set an example," said this great animator of the backroom. A backroom full of his joy and motivation that symbolises what it is to play for OL.


---
[IMG40703#C]