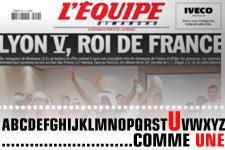 It's time to learn your ABC, with one new letter every day… Today it's time for U… as in Under the Spotlight.
Precociously placed at the top of the French standings and the authors of a stunning European campaign, Olympique Lyonnais was never far from the media's gaze. The club was the most popular, driving force in French football yet again…

Lyon was on the front page of sports paper L'Equipe 33 times, 134 times in newspaper Le Progrès. OL's 2006-07 season was one under the spotlight. Fans and collectors alike were quick to cut out L'Equipe's headline on Sunday April 16: "LYON V, KING OF FRANCE". The evening before, Lyon had entered into the history books, becoming the first side ever, to win five consecutive first division crowns. Le Progrès went with "Historic Crown", on the same day while "5 – Lyon – the story of a giant" led the magazine France Football on Tuesday April 18.

OL entered into history, but also into hearts. France's No.1 side in continental competition, Lyon's Champions League heroics untied the country. If proof was needed, one need look no further than the day after the side's cruel elimination at the hands of AC Milan."How terrible" cried L'Equipe summing up the emotions of a nation. The sentiment was echoed in national daily Aujourd'hui en France who bemoaned "How sad!".

[IMG40701#R]I twas one sour note in an otherwise incredible collection of front pages eulogies: Galactic (L'EQUIPE Sept.9 2005), Untouchable (L'Equipe Jan.12), Insatiable (Progrès Oct.3 2005 and L'Equipe Jan.9 2006), Impressive (Aujourd'hui en France Mar.9) Top marks (Progrès Nov.24 2005): OL was showered with compliments from go to woe.

As if to sum up what i twas to be part of Lyon last season, L'Equipe was at it again on March 9 2006 : LYON, IT'S SIMPLY BRILLIANT!


---
[IMG40700#C]