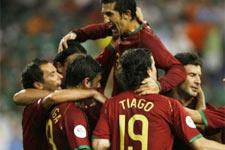 Already qualified and assured of winning their Group, Luiz Félipe Scolari chose prudence with the rest of the competition in mind.
Pauleta, Nuno Valente, C. Ronaldo, Deco, and Costinha all picked up a yellow card during the opening two matches of the Group phase. As a result, the quintet began the final Group D clash on the bench. Already qualified as Group winners, Luis Felipe Scolari preferred prudence for the remainder of the competition. His 4-3-3 was nonetheless as effective as the opening two matches despite a remodelled team captained by Figo. Tiago took his place amongst the starting XI of Europe's equivalent to Brazil…

While one point would suffice for the Mexicans to conserve their second place, Maniche sent nerves rattling with the opening goal after just six minutes thanks to a perfectly laid off ball from Simao.
The Benfica striker didn't have to wait long before getting on the score sheet after stroking home a penalty a quarter of an hour later.
Tiago came close to extending the advantage with a vicious shot from the penalty spot that Sanchez, the Mexican keeper, saved.
Despite their possession, Portugal failed to extend their advantage, and instead, it was Mexico who reduced the deficit thanks to Fonseca's goal on the half hour mark.

The Portuguese conserved the one-goal lead as they returned to the changing rooms of the AufSchalke Arena, Gelsenkirchen.
Fifteen minutes later, Ricardo la Volpe's team were beginning to keep one eye on the simultaneous Group D clash between Angola and Iran (0-0)… Omar Bravo was unable to make their second position safe. Despite a penalty and the class of Zinha (57' and 64'), Mexico were unable to get back on terms while Tiago remained a constant threat with another rifling shot in the 65th minute.

Scolari's players eventually recorded their third victory in as many matches and will now face the second-placed team of Group C (Argentina or Netherlands) next Sunday, June 25th, at 21:00 CET. Mexico remained second on Group D ahead of Angola and Iran thanks to their 1-1 draw.

Group D Results :
Portugal 2-1 Mexico
Iran 1-1Angola

Group D Standings :
1. Portugal 9 points; 2. Mexico 4pts; 3. Angola 2pts; 4. Iran 1 pt.