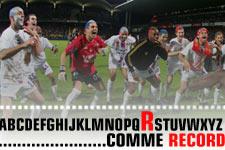 It's time to learn your ABC with one letter a day… today's it's time for R... as in Record. Only a few clubs have managed such a performance on the continent.
Five consecutive titles… A great performance that proved the club's hegemony over their rivals in Ligue 1… An amazing quintuple of title that put l'OL in the European history books for only a handful of clubs have managed such a performance on the continent.

Over the channel, Lyon has no equals despite the strength of the Première League. Liverpool boast 18 titles, Manchester United 15 and Arsenal 13. However, for the moment these three teams have only managed a series of three consecutive titles.

In Germany, the huge Bayern Munich are the uncontested masters of the Bundesliga with 20 championship titles. On three occasions the Bayern have lined up three consecutive titles… but Franz Beckenbauer's club has never managed to do better.

In Spain, Real are the kings when it comes to titles. The Madrid club have won the Liga on 29 occasions. Amongst all these titles, the Galacticos managed, as Lyon, five consecutive championships between 1986 and 1990. Bareclona have been crowned 18 times of which four came in a four-year spell in the early 90's with Hristo Stoichkov at the helm.

Apart from Real Madrid, two other clubs have won five successive titles. They are both Italian and from the same city: Turin. During the 1930's, Juventus claimed five consecutive Scudetti. A decade later, city rivals Torino also won the Calcio five years in succession. Their two rivals at Milan come next with AC Milan winning three titles at the start of the 1990's and Inter did the double in 1953 and 1954.

Of the smaller European championships, other five-title records exist… Anderlecht and Porto have both reached the milestone, but a more impressive record exists in Scotland with both Rangers and Celtic achieving no less than nine consecutive titles. The outright record is held by Rosenborg. Between 1992 and 2004, the Norwegians dominated the championship for 13 seasons.