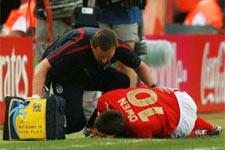 Depuis 1968, l'Angleterre n'a plus battu la Suède. Poussive lors de ses deux premières rencontres, l'équipe de Sven Goran Eriksson a concédé un match nul 2 buts partout. Les deux équipes se qualifient pour les huitièmes de finale.
England winger Joe Cole opened the scoring with a spectacular 32nd minute volley from 30m out. At the start of the second half, Allbäck headed the equaliser from Linderoth's corner in the 51st - the 2000th goal in the history of the World Cup. Larsson headed Kallström's corner onto the crossbar in the 56th minute before Mellberg also struck the woodwork with a volley in the 60th. With the supporters realising their team were in trouble, "God save the Queen" rang out just as Steven Gerrard headed England back into the lead (85th) before Larsson clipped home a deserved equaliser in stoppage time following yet another set-piece scramble.

Thanks to the stalemate, David Beckham's men finish top of Group B and therefore evade Germany in the second round. The only negative point of the evening was the knee injury picked up by Michael Owen in the opening minute of the match, which could rule him out for the remainder of the tournament. The former Ballon d'Or was replaced by Peter Crouch, who linked up with Wayne Rooney.

For the second match in succession, Kim Kallström was chosen to start in midfield for the Scandinavians. The l'Olympique Lyonnais player contested the entire match, but neither his narrowly missed header (15th) nor his shot saved off the line by Steven Gerrard (71th) were able to help Sweden avoid facing Germany.

The hosts beat Ecuador 3-0 and will therefore face Lars Lagerback's men in the second round, which will take place on Saturday June 24th at 17:00 CET in Munich.

England will meet Ecuador on Sunday June 25th at 17:00 CET in Stuttgart.

Group A Results:
Germany 3 - 0 Ecuador
Poland 2 – 1 Costa Rica

Group A Standings:
1. Germany 9 points; 2. Ecuador 6pts; 3. Poland 3pts; 4. Costa Rica 0 pt.

Group B Results:
England 2 – 2 Sweden
Paraguay 2 – 0 Trinidad and Tobago

Group B Standings:
1. England 7 points; 2. Sweden 5 pts; 3. Paraguay 3pts; 4. Trinidad and Tobago 1pt.