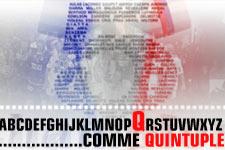 It's time to learn your ABC with one letter a day… today's it's time for Q... as in Quintuple champions of France. What a performance from the Olympique Lyonnais!
This title was the priority of president Jean-Michel Aulas. No other French team had ever succeeded in winning five consecutive Ligue 1 titles. L'OL did it be controlling the 2005/06 championship from start to finish thanks largely to their experience and the quality of their team.

History will read that three coaches participated in this record: Jacques Santini in 2001-2002; Paul Le Guen in 2003, 2004 et 2005 and Gérard Houllier this season. Five players also achieved this remarkable experience: Coupet, Juninho, Cacapa et Govou. Diarra and Müller follow with 4 titles, with Malouda, Réveillère, Bergougnoux, Berthod, Clément, Puydebois, Luyindula, Edmilson, Carrière, Deflandre, Delmotte, Violeau settling for 3.... In total, 54 players have won a champions medal at least once with Lyon.

Amongst the technical staff, Joël Bats and Robert Duverne have experienced it all; Yves Colleu and Rémi Garde have been champions three times; Dominique Cuperly twice and Alain Olio and Patrice Bergues once. The medical team, Jean-Jacques Amprino, Abdel Redissi and Patrick Perret have always been present, as has Guy Genet.

Five titles which betters the achievements of St-Etienne (1966 to 1970) and Marseille (1988 to 1992), though it must be noted that Bernard Tapie's OM were relinquished of a fifth title in 1993 due to transfer misdemeanours.

The fifth title was also an historical moment for both Lyon and the Ligue as the club became the first to surpass 80 points under the modern format (L1 of 20 clubs and 3 points for a win). The record run of titles for the Olympiens will continue next season with the objective of adding a sixth to their list of honours.


---
[IMG40694#C]