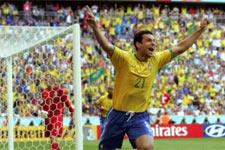 Brazil beat Australia 2-0 thanks to two second half strikes from Adriano and Fred.
Unable to unlock the Australian defence for the entire first half, Kaka's team-mates found the opening in the 50th minute thanks to a swift combination between Ronadinho, Ronaldo and Adriano.
Of the three Lyon players present in the Brazilian squad, only Fred, who came on as an 87th minute substitute for Adriano, took part in this match.
One minute after arriving on the pitch, the Olympique Lyonnais striker controlled the ball with his back to goal but still managed to put Robinho through. The Real Madrid striker's shot came back off the post and Fred, with the left foot, was there to stroke home Brazil's second goal – his third in four selections.
Thanks to their second victory from as many matches, the Brazilians are assured a place in the second round.

Earlier in the afternoon, Japan and Croatia fought out a goalless 0-0 draw. Zlato Kranjcar's men were unable to find the opening in front of a determined Japanese side, and will rue Sma's saved penalty and Niko Kranjcar's strike that came back off the crossbar. The shared points didn't help either team in their quest to reach the second round.

Japan take on Brazil in their next match on Thursday June 22nd at 21:00 while Australia face Croatia.

Group F Results:
Japan 0-0 Croatia
Brazil 2-0 Australia

Group F Standings:
1. Brazil 6 points; 2. Australia 3 pts ; 3. Croatia 1 pt (-1) ; 4. Japan 1 pt (-2).