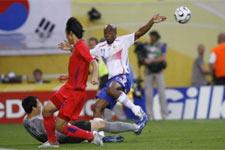 At Lepizig, for their second match of the World Cup, Les Bleus faced the challenge of South Korea – leaders of Group G
France dominated the opening exchanges and in the 8th minute, thanks to a deflected strike from Sylvain Wiltord, his former Arsenal team-mate Thierry Henry opened the scoring thanks to a deft control and left foot strike from the 5m 50 line. The first half ended 1-0.
But as coach Raymond Domenech admitted after the match, France weren't in control at 1-0 and unable to keep the ball. In the second half, despite many opportunities to double their advantage, Les Bleus failed with the final shot. Wiltord (52') and Malouda (57' ; 73') were unable to hit the target while Henry was marked well by Lee.
As the final minutes counted down, France, still not safe, succumbed to the Korean pressure. Abidal and Zidane both picked up yellow cards, putting them both out of the next match, while Park plunged the Tricolores into despair with a late goal (1-1).
Wiltord (60') and Malouda (88') gave way to Ribéry and Dhorasoo late in the second half.

The maths will be done on Monday after the match between Switzerland and Togo at 15:00. The latter are the next adversaries for France, the third and final match of the group phase, on Friday June 23rd in Cologne. "We have one more match. We have to win it to have hope… and to qualify," Raymond Domenech told TF1.

Group G Standings:
1. South Korea 4 points (+1) ; 2. France 2 pts (0) ; 3. Switzerland 1 pt (-1) ; 4. Togo 0 pt (-2).