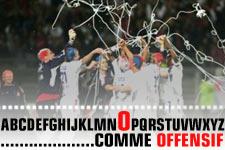 It's time to learn your ABC – Lyon style – with one letter per day… and today it's time for O… as in Offensive. If there's one word to sum up Gérard Houllier's side's play this season, that word would have to be: Offensive.
Right from the very first official match of the French season, Lyon set the tone, banging home four goals at the Stade l'Abbé-Deschamps including a John Carew hat-trick. 38 league matches later and Lyon had scored a monstrous 73 goals in Ligue 1. A total that no French team had reached since the 1989-90 season when Olympique de Marseille scored 75, including 30 from Jean-Pierre Papin.

The matches against France's eastern most teams contributed greatly to that figure: 2 times 4-0 v Metz, 4-0 v Strasbourg and Sochaux as well and 2-0 v Nancy. There were also the 12 goals in the two final home games of the season (4-0 v Saint-Étienne and 8-1 v Le Mans) which allowed the 2006 French champions to set a new club record for the number of goals in a single season. OL finished the season with not only the best home attack (40 goals), but also the best away attack (33 goals) in the league.
To this domestic performance can be added the continental haul, where OL finished third top scorer in the Champions League with 19 goals, behind Barcelona (24) and AC Milan (20), as well as boasting the second best goal per game ratio of 1.9, just behind Schalke 04 (2 goals/game).

The main man behind this success was Fred who quickly adapted to the rigors of French football and scored 17 goals in his debut season. Another debutante, John Carew finished with an honourable 15 despite a difficult end to the campaign. Juninho and Wiltord got 14 apiece. There was also the first professional goal for Karim Benzema and a first league goal for Jérémy Berthod as well as Hatem Ben Arfa's first goal from open play.

This season, Olympique Lyonnais scored 105 goals including 8 direct free-kicks, 2 penalties, 11 from corners, 22 headers (Fred and Carew 4 each) and 1 own goal thanks to Saint-Etienne's David Hellebuyck.

With the exception of the trips to Saint-Étienne and Lille and the visits of Bordeaux and AC Milan, Lyon scored in each of its 54 official matches - an incredible record considering French football's general reliance on resolute defending to bring success.