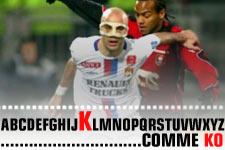 Learn your ABC with one new letter every day… Today, it's K... as in K.O.
K.O.? There was more than one over the course of last season both figuratively and literally speaking. The first was that of Cris against Monaco on September 10, 2005. The Brazil international had to leave the field in the 36th minute to be replaced by Diatta. Cris was at it again a few months later in Eindhoven. After an aerial collision with Farfan in the first half, Cris looked up from the ground and revealed a face covered in blood and a fractured nose. At half-time he was replaced by Wiltord. At the Parc des Princes, Coupet had to leave the field in the 68th minute after the Uruguayan Bueno forgot to step out of a challenge and dug his studs into Greg's right knee. In the heat of the moment, and as a precautionary measure, the France international made way for Rémy Vercoutre.

More K.O.s? How about Diatta's against Nice. Fighting for the ball with Tchato, the Senegal defender hurt his leg and had to be replaced in the 29th minute by Réveillère. Jérémy Berthod didn't escape either. Firstly in Rosenborg, where i twas more fear than harm. The second time however, it was serious. Only just back from another muscle problem, he had to leave the field in tears in the 53rd minute with yet another hamstring strain. For Anthony Réveillère and Sylvain Monsoreau, it was also a question of hamstrings. Antho did his against Ajaccio in the Coupe de France having just returned from injury. Clerc replaced him. As for Monsoreau, was forced off in the 78th minute against Lille and he made his way slowly back to the bench with a strained thigh muscle. Clerc? He got his K.O. in the 42nd minute of the return leg Champions League clash against PSV. The Dutch captain Cocu took him out, and while he received a red card for the challenge, Clerc was able to continue.

Of course the biggest K.O. of all came with the Champions League quarter-final elimination at the hands of AC Milan at San Siro. The images of the Lyon troops, despairing at the final whistle are engrained on the memory. Against Marseille, and even Lille, while not as big, defeat certainly left the bitter taste of disappointment.