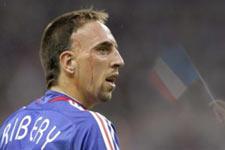 Olympique Lyonnais was delighted to read in the newspaper Le Parisien that Franck Ribéry has allegedly decided to join OL for next season.
However, OL would like to state firmly that while the newspaper refers to 'Lyon sources', this information did not come from Olympique Lyonnais.

If this decision is confirmed, it will be great news, not only for OL, but for the France team and French football in general who will be able to count on one of the country's most exciting young prospects remaining in Ligue 1 for another season, despite being chased by some of Europe's most prestigious clubs.

Of course, Franck Ribéry's decision to join OL is still subject to the final position of current club Olympique de Marseille. We can, however, quote OM president Pape DIOUF, himself a former player agent, who admitted it would be very hard to keep a player who has publicly expressed his desire to leave and join another club to further his career and development.

A potential transfer of Franck RIBERY would also allow OM to expand its own squad with other international players by providing the financial means to do so.