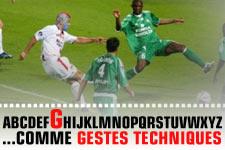 It's time to learn your ABC... one letter per day and today it's time for G… as in Great Skill.
Obviously, with so many great goals scored this season, and the moments of great skill, it's not hard to recall the highlights, not necessarily in any order… For example, nobody will forget the brilliant back-heel by John Carew at the Estadio Santiago Bernabeu against Real Madrid. The cross from Wiltord (72') was superbly back-heeled into the net by the Norway international… Magic!

Magic. Just like Florent Malouda's back-heel against Sochaux after being set up by Eric Abidal (54'). That great skill was reminiscent of Madjer in the European Cup final for Porto. The victorious volley from Govou against Marseille? I twas back on January 11, in the 83rd minute... Déhu's poor clearance was thumped goalwards without a moment's hesitation by 'Sid'. Barthez never stood a chance and OL ran out 2-1 winners. Who could forget Fred's goal at the Stade Gerland against PSV Eindhoven. In the 90th minute, inside the penalty area, Fred tried and succeeded a magical dribble around Aissati before thrashing a left-foot shot into the back of the net. What a way to celebrate the birth of his baby girl that same day.

The Swiss defender Patrick Müller returned to OL during the winter transfer window. Against Metz, he scored a sensational goal in stoppage time with a volley worthy of the world's greatest attackers. And what about that solo brilliance from Juninho in the second half against Paris-SG. His go-it-alone-run ended with his lobbed shot coming back off the post with Letizi beaten. It was a masterpiece that deserved to register on the scoreboard. Fred also pulled off a gesture of unparalleled skill during the match against Saint-Etienne.

There were plenty of moments of great skill that didn't necessarily end in a goal... Like the way Tiago dictates play, seeing everything before anybody else, giving the impression he has eyes in the back of his head. The 'stepovers?? of Juninho, but also his young protégé Benzema. The flick behind his standing leg by Hatem Ben Arfa against Saint-Etienne. That incredible tackle from Cris in the first half against PSG. The chest controls at the back from Cris and Abidal. The controls of Sylvain Wiltord while at full speed, a gesture that allows him to invariably skip clear of his marker and bear down on goal. And one mustn't overlook the great skills of Grégory Coupet, his saves, his footwork his distribution. It's just a little selection out of so many...