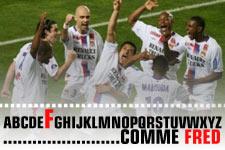 It's time to learn your ABC... One letter per day. Today it's F... as in Fred, the second-top scorer in the league.
At around 18:00 on Sunday, August 28 2005, Frédérico Chaves Guedes, better known simply as Fred, touched down in Lyon for the first time. Direct from Cruzeiro, the Brazilian's signature was still fresh in a four-year contract with OL, that also brought the curtain down on the summer recruiting.
Proud of his latest acquisition, President Aulas could finally let out a great sigh of relief, because Fred was also being chased by a number of big clubs, including Sevilla and AC Milan. In the end he chose France and Lyon to continue his training, thanks, it must be said, to some very good advice…
"I'm delighted to be joining Olympique Lyonnais… In Brazil we're hearing more and more about this club and its Brazilians. I also know Cris very well from playing together at Cruzeiro. He's a good friend... he really urged me to sign here and told me that the foreigners are always very well welcomed in Lyon."

And no sooner had he arrived, Fred had the tongues wagging. His first match in a Lyon shirt, his first appearance at the Stade Gerland, and above all… his first goals! A double against AS Monaco. Fred struck at the start of each half and offered his side a crucial 2-1 win… a magical moment for the new No.11: "It was really important to win this match, and personally, to score. It was an incredible moment, a communion with God and my teammates. I only remember that, that joy in front of our fans!"

Eight months later and Fred had added to his goal tally… 17 in total including 14 in the league. The Brazilian finished as the club's top scorer, with plenty of promise for the coming seasons… For the player that wanted to join "a great club", as he said upon his arrival, it was a gamble that paid off. Not only did he force his way into the first choice striking role, he was also getting noticed elsewhere. For proof, one need look no further than the Brazil national coach Carlos Alberto Parreira, who has decided to give him his chance in the World Cup in Germany, alongside Ronaldo, Robinho and Ronaldinho.
What a way to cap off an incredible year. The birth of his little Giovanna, the afternoon of the PSV match (and a memorable goal to boot!), the Teofilo Otoni native really has had an exceptional season…
At just 23-years of age, Fred has all the ingredients to have a long and illustrious career in football… Starting with next season, of course.