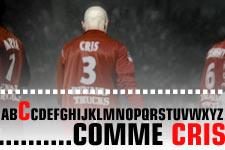 He played 36 matches in Ligue 1, scored five goals in all competitions, but above all, Cris was an insurmountable rock in the heart of the Lyon defence. His omnipresence this season saw Cris become one of the key elements in the Olympique Lyonnais team.
"He's currently one of the very best defenders in the world." That compliment comes from none other than Zinédine Zidane after the first Champions League game of the season between Lyon and Real Madrid. Just like Olympique Lyonnais, 3-0 winners, the Brazilian defender kick-started his season in the best possible way.
And Cris wasn't about to come down from his little cloud. Quite the opposite in fact, the 'Policeman' became the law in the Lyon penalty area. He also pulled out a few gems at the other end of the field in scoring five goals, almost all decisive. Against Troyes, first of all, the defender turned around a one-goal deficit with a determined double (2-1). But it wasn't just in the league as the former Cruzeiro man scored the winner against Rosenborg in the Champions League (1-0), before scoring a crucial equaliser in extra-time of the last 32 Coupe de France clash against Ajaccio (2-1).
Cris is a warrior, a peerless defender and providential man. Always in the right place at the right time, as is illustrated by his goal against Le Mans on the final day of the season, the Brazilian invented the 'back goal', which also left him with a nice new mark on his lower back.

Cris also cuts a nice pose: especially that of the Masked Avenger who played against Rennes, protecting his fractured nose. Cris is also about celebrating, with his choreography for Fred's goal against Saint-Etienne. But Cris is above all, Lyon's party animator. The king of practical jokes he has a hand in everything… even the most outrageous…

Calm, efficient and impressive on the park, Cris also knows how to be the star of the show off the pitch. He knows how to find the balance between the two, and it obviously allows means he loves playing for Lyon. Solicited by a number of big clubs, the former Bayer Leverkusen player decided to extend his current deal with Olympique Lyonnais until 2010. It's proof, if it was needed, that the man and the player feel right at home in the capital of the Gauls. And thanks to his incredible season in red and blue, Cris has won the right to where the Auriverde of the Brazil national team at the World Cup. He'll be there in Germany alongside Juninho, Fred and Edmilson. Another of the Brazilians to put his suitcase down in Lyon to become a household name in his homeland.


---
[IMG40605#C]