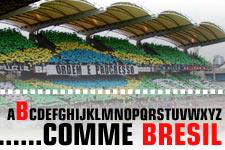 It's time to learn your ABC… one letter per day, and today's it's time for B… as in Brazil.
The links between the land of Pele and Olympique Lyonnais are many... especially at present with OL boasting two Brazilian recruits in the women's team (Simone, N°6 and Dayane, N°9) and four in the men's squad.

Juninho, crowned Ligue 1 Player of the Season at the recent UNFP Awards ceremony is without doubt the crowd favourite. The magic feet of Pernambucano were once again decisive this season, as a passer as well as peerless free-kick taker. Good luck Juni de Recife for the 'Copa do Mundo'.

Cris, solid central defender, guards Grégory Coupet's goal with his life. It's as though 'the Policeman' had placed his own child in the goal and want let anybody approach. Daddy Cris isn't obsessed, but he is certainly protective and he does it with talent, elegance and a whole lot of class. It's a pleasure for all lovers of 'Futebol' to know that he'll be there until at least 2010…

Captain Claudio, arrived in the squad as a quick fix solution to cover the injury to Florent Laville in the winter of 2000, but made such an impact that he just had to stay. When he scored the winning goal at the Stade de France in the 2001 Coupe de la Ligue, Claudio Caçapa was assured his place on the ship… now he's the captain.

And so to the last, but certainly not the least, some even tip him to be leading scorer at the 2006 World Cup (!): Fred. Young and talented, Fred joined the OL formula one team, directed by Gérard Houllier, last summer along with giant Norwegian striker John Carew. You get the feeling last season was nothing but a warm-up lap. Before jetting off to join Ronaldinho and the rest of the Seleçao at the World Cup, he offered a hat-trick to the Stade Gerland faithful in the final match of the season against Le Mans and finished as the club's top scorer.

They say they make the squad live and breathe. It was them that made the game UNO indispensable for the road trips. They uphold the virtues of football and fair-play… them, but also those that went before them, such as Nilmar, Elber, Edmilson, Sonny Goal and, of course, Marcelo.


---
[IMG40604#C]