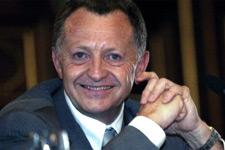 The president of Olympique Lyonnais, Jean-Michel Aulas, reveals all about the club's transfer negotiations...
The Transfers

"We're in a transition period. We've seen the signing of Jérémy Toulalan and we've immediately seen how important he is with his brilliant performances in the European Under-21 Championships. That was a big and hugely satisfying deal that we've been working on since last year.

We're still negotiating with Rennes for Kim Kallström. I can't say it's a done deal because nothing has been signed yet, but I think we've taken steps in the right direction. The player himself has already signed personal terms. We've done the hard part with Rennes and we can say that in the coming hours Kim will be Lyonnais with a considerable transfer fee to boot. It was one of Gérard Houllier's priorities to get a left sided midfielder who can offer another option now when someone is injured or rested. Now we will have another top quality midfield option."

The extensions

"We were a little worried about Karim Benzema who has just extended his deal to 2010. That's a great deal for the club considering his talent, and there were a lot of clubs interested in him, both in France and abroad. He decided to give his priority to the club that brought him through the youth ranks and that's a good thing.

"Sylvain Wiltord has given us his word that he will sign on for another two years as player. He'll be in Lyon on Friday because we've sent a private plane to go and get all five of our France internationals, including Robert Duverne.

"Cris also signed a contract extension before heading off to join the Brazil squad. We can also see that when Brazilians come to play for Lyon they suddenly came into the plans of the national team because Fred will also be joining him at the World Cup. I'd also like to acknowledge our old friend Edmi who was injured yesterday and who I had, indirectly on the phone. It's very sad.

"We also saw the signature of François Clerc who was tempted by Marseille but has decided to stay with Lyon.

"Rémi Vercoutre still has one year left. We've agreed to start discussions with him to bring him in line with Grégory Coupet. As he left on holidays, I don't think he has any concerns about his future. We'll talk upon his return and try and find a de al that suits him, because I know he's knocked back offers from other clubs.

"I can understand Jérémy Clément who did not accept our new offer. He wants to play more than he did last season. We'll accept a transfer offer for him but not a loan deal. So if he wants to move on then we'll give him the chance to join another team and get more playing time, because with the arrival of Kim Kallström he finds himself third choice and that's not easy for him to take.

"With these signatures we have the skeleton of the team already in place. I don't think any other players, excluding a really astonishingly large bid, will be leaving the club"


A great attacker

"I would like to point out to all those people that it's not very respectful to talk about a great attacker when we already have three attacking players of immense talent and quality in Sylvain Wiltord, Florent Malouda and Sidney Govou. There's also Fred who's with the Brazilian team for the World Cup, without forgetting John Carew who had a great start to last season and if you look at the statistics, 14 goals in your first season at a club is fabulous. They are all great attacking players and to that list you can add Karim Benzema.

It's true that we're discussing with Gérard the idea of bringing a fourth out and out attacker but playing with three forwards and three defensive midfielders means you can only afford to play with one central target man.
Too many attackers might not be a good thing so we have to be careful. Of course if Sidney leaves, he will have to be replaced and for him we will need not only a forward but someone that can play on the right side. When you start looking for players that can play that role we saw on Thursday that Franck Ribéry played not only behind the striker but also on the wing. He was also very, very good. He's a player that could interest us, but he has offers coming from everywhere.
We don't want to create tension with other clubs and that's why we try to be very discreet when we talk to players and clubs.

Concerning Ribéry, everybody on the coaching staff likes him. I had a long discussion with Gérard Houllier yesterday and he said to me: "have you ever had a meeting where your entire staff was unanimous in calling for a right-sided player like Franck Ribéry?" He does play well and he's a breath of fresh air… The player himself is very interested in coming to Lyon. I've met him several times and we've talked. For the moment, OM's position in totally understandable and they don't want to let him go unless they make a nice little profit from the deal, but also reinforce their team with several players. It's too early to say for now, but he is one of our priorities, even if negotiations aren't always easy.