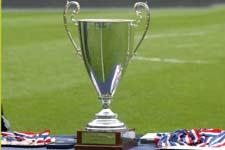 Despite dominating proceedings, the OL youth team, coached by Patrick Paillot and Gérard Drevet, lost to the only three chances Strasbourg had all night at the Stade de France.
Final of the Gambardella Cup (Stade de France): RC Strasbourg bt Olympique Lyonnais 3-1 (h-t: 1-0). Referee: Mr. Pousthomis. Goals: Assami (41'), Olivier (80') and Zenke (93') for Strasbourg. Benzema (49') for Lyon.

OL: Riou - Faussurier, S. Paillot, Charvet, Migliore - Beynié, Plessis (Karaboué, 69'), Valdivia (Pied, 84') - Remy, Benzema, Mounier. Coaches: Paillot and Drevet

Strasbourg: Duki - Tritz, Assami, Weber, Fanchone - Bergueira (Olivier, 79'), De Jong, Othon, Zerbini (Lourde, 86') - Gasmi, Mathlouthi (Zenke, 90'). Coach: Claude Fichaux

The Alsace side opened the scoring five minutes before half-time when Nordine Assami's free-kick found the top corner. 1-0 down at the break, Karim Benzema soon had OL back on level terms with another classic free-kick, just five minutes into the second half.
Olympique Lyonnais continued to press for a winning goal but were unable to find another route to goal… Loïc Rémy fired over before finding the woodwork, while Benzema's outside of the foot effort flashed centimetres wide.

At the other end, Strasbourg showed a fightening efficiency in front of goal. Substitute Julien Olivier knocked the ball passed Rémy Riou with his very first touch(80') and then Simon Zenke finished the match off with a third goal into an empty net after the entire Lyon squad had pushed forward in search of an equaliser.