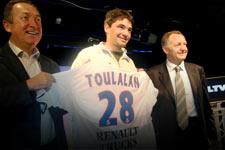 Just a few minutes before midday, Jean-Michel Aulas, Jérémy Toulalan, Bernard Lacombe and Gérard Houllier arrived at the studios of OLTV to make official the arrival of the Nantes midfielder.
The Canaris holding player signed a four-year deal with OL, with the trensfer fee set at €7m. OL also opened its transfer season. "Jérémy has come to help complete the Lyon squad. Last season we received a knock back from Nantes. It's been a long story. Jérémy hadn't wanted at the time to get in a problem with his club. When another club has results like our, transfers become a complicated business. It's something we're trying to improve on at present," said president Jean-Michel Aulas, also revealing that discussions with Brazilian club Corinthians for Nilmar were nearing completion. As for Sylvain Wiltord, the two parties are to meet this weekend. And don't forget the mid-season contract extensions of Coupet, Malouda, Clers and Cris as well as the first professional contracts for Benhamida and Bettiol. And finally, the president also talked about the exceptional season just finished: "We were champions of France for a record fifth consecutive time and beat a number of records. Currently 16 of our players play for their countries."

Gérard Houllier

"OL always follows its ideas through. It happened again this season. Jérémy interests us in terms of his ability and also his attitude. He has a good mentality, good technique and he's willing to work. I'm very happy with his signature. Obviously he's here to play in midfield. We've been following him this season. Does that mean there will be some departures in this part of the field? Not for the moment. We'll see what the players want... you know, a season is very long when you've got ambition. It demands a large and talented squad."