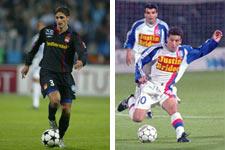 If no current Lyon player has even won the European Cup of the Champions League, five former Olympians have lifted the famous cup following Barcelona's triumph over Arsenal.
It all began with a Portuguese player… Mario Coluna who won the European Cup with Benfica in 1961, against Barcelona, 3-2, and in 1962, against Real Madrid, 5-3. He spent the 1070-71 season with Lyon.

Then there was the Ghanaian Abedi Pelé, crowned with OM in 1993 against AC Milan, 1-0, who spent the following season with OL, playing 29 games. It was Pelé that hit the corner which Basile Boli headed home for the only goal of the match.

In 2001, Giovane Elber and Bayern Munich beat Valencia on penalties. Giovane was twice crowned French champion during his 18-month stay in France.

And now, since Wednesday night, added tothat list are Ludovic Giuly and José Edmilson. The former came through the ranks of the OL youth system and played 100 L1 matches for Lyon between 1994 and 98. He then joined Monaco before heading for Catalunya in 2004. The second won three French titles with Lyon and a Coupe de la Ligue between 2000 and 2004 (105 matches in L1). He also joined Barca in 2004.