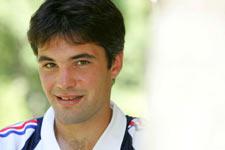 Jérémy Toulalan will play for Lyon next season. OL, Nantes and the France youth international have all agreed terms and the official signature will take place next week.
It's been on the cards for a few days now that the Nantes midfielder Jérémy Toulalan (184cm) will sign for Lyon for four years. The Canari player will turn 23 on September 10. He was born in Nantes and came through the ranks of the FCNA. He has played 94 Ligue 1 matches, scoring 1 goal. He made his Ligue 1 debut on March 23, 2002 against Rennes. He played against Lyon three times this season, scoring one of the four penalties that knocked Lyon out of the Coupe de la Ligue.
He becomes the first summer recruit for the quintuple champions of France. He will take part in the European Under-21 Championships in Portugal from May 23 to June 4 alongside fellow Lyonnais François Clerc and Jérémy Berthod. In joining OL from Nantes he follows in the footsteps of Eric Carrière, Patrice Loko, Jean-Marc Chanelet, Reynald Pedros. Without forgetting Paul Le Guen...