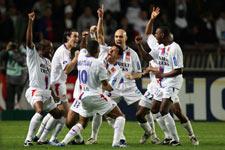 Les Lyonnais disputed five different competitions this season: Trophée des Champions, Ligue 1, Coupe de France, Coupe de la Ligue and the Champions League. Take a look back at all the goals scored, conceded, the earliest and latest…
In the Trophée des Champions, Hatem Ben Arfa scored Lyon's first goal of the season – a penalty in the third minute.

In Ligue 1, Fred scored the fastest goal of the season against Paris-SG at the Stade Gerland in the fifth minute. Carew scored the latest goal against Monaco in the 94th minute. Marseille's Taiwo scored the fastest goal for the rest, in the 7th minute against Lyon, and Luyindula equalised in the 89th minute in the game against Auxerre.

In the Champions League, the honour goes to Junhino who scored in the fourth minute against Olympiakos at the Stade Gerland. His compatriot Fred scored at the other end of the clock – the winner against Rosenborg in the 93rd minute. Babandiga beat Coupet in the third minute of Olympiakos – OL and Shevtchenko ended Lyon's dreams in the 93rd minute during that famous match at San Siro.

Finally in the Cups, Govou scored the winning goal against Ajaccio in extra-time (113rd minute). The Corsicans had opened the scoring, already in extra-time (95th minute).

Sidney Govou was actually the end of game specialist. Of his eight goals this season, only one came in the first half (v Toulouse). The seven others were scored in the 69th (Lille), 76th (Nice), 83rd (Marseille), 87th (Le Mans), 89th (Olympiakos), 90th (Nantes in the Coupe de la Ligue) and 113th (Ajaccio in the Coupe de France). He also the only player to have scored in four of the five competitions (Ligue 1, Coupe de France, Coupe de la Ligue and the Champions League).

Of OL's major goal-scorers: Fred scored13 of his17 at the Stade Gerland; Juninho 8 of his 14; Carew 6 of his15 and Wiltord 4 of his 14. Carew and Juninho both scored at least one goal in four consecutive games.