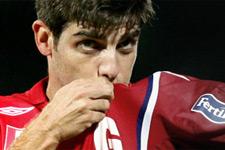 Juninho scored his 50th League goal for Lyon and his 27th free-kick on Saturday. He joins Cavéglia and Kabongo with 65 goals scored in all competitions with OL. And that sees him enter into the Top-10 on Lyon's all-time scoring chart.
His free-kick against Le Mans may not have been (for once) the match-winner but it is the latest to add to his superb collection. He now counts 27 free-kick goals. He has beaten 23 different goalkeepers for those 27 goals. Cool and Revault were both beaten twice in the same match. Porato has been beaten 3 times in 3 different games. 27 free-kicks for 23 wins and two draws. 18 free-kicks scored at the Stade Gerland and 9 away.

He has scored 9 penalties and missed 2. 2 of the 9 penalties were scored during defeats (v Lille in 2004-2005 and v Rennes in 2005-2006).

Just one header (Sochaux 2002-2003).

4 with the left foot (Real Sociedad, Metz, Bourg-Peronas and St-Etienne).

He has scored 65 goals in 5 season, beating 42 different goalkeepers. Only two of his goals have come in defeats – the two penalties. He has two years left on his current deal to try and reach the 100 goal mark and pass Anderson (97). He scored 5 goals in 2001-2002; 13 in 2002-2003; 17 in 2003-2004; 16 in 2004-2005 and 14 in 2005-2006. 36 goals from set pieces. 65 goals: 50 in the league, 4 in the Coupe de France and 11 in the Champions League. Auxerre's Cool is Juni's favourite 'keeper, having beaten him five times.