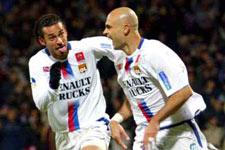 Cris, Fred and Juninho have been named among the 23 players that will represent Brazil at next month's World Cup in Germany.

Already the best represented club in Raymond Domenech's squad with four players (Coupet, Abidal, Malouda and Wiltord), OL is, with three players, the second most important provider to Brazilian coach Carlos Parreira, behind Real Madrid (4).
It will be the first World Cup for all three of Lyon's Brazilians. If Juninho has, for some time now, been considered an important part of the Seleçao, Cris and Fred have been rewarded for their great season with OL.
Fred has most certainly profited fropm his great end to the season, scoring 7 goals in his last 7 games, including a hat-trick against Le Mans.
The presence of Cris is more reinforcement for a squad which contains all the usual suspects, such as former Lyon ace Edmilson as well as Milan's Kaka, Cafu and Dida, Real Madrid's Ronaldo, Cicinho, Roberto Carlos and Robinho as well as Barcelona's Ronaldinho.

Brazil: Dida (Milan AC), Rogerio Ceni (Sao Paulo), Julio Cesar (Inter Milan) - Cafu (Milan), Cicinho (Real Madrid), Roberto Carlos (Real Madrid), Gilberto (Hertha Berlin), Lucio (Bayern Munich), Luisao (Benfica), Juan (Bayer Leverkusen), Cris (Olympique Lyonnais) - Emerson (Juventus), Ze Roberto (Bayern Munich), Edmilson (FC Barcelona), Juninho Pernambucano (Olympique Lyonnais), Gilberto Silva (Arsenal), Ricardinho (Corinthians), Kaka (Milan), Ronaldinho Gaucho (FC Barcelona) - Ronaldo (Real Madrid), Adriano (Inter Milan), Robinho (Real Madrid), Fred (Olympique Lyonnais).

Patrick Müller has also been chosen in Switzerland's 23-man squad.
The Swiss squad contains several elements playing football in France: Stephane Grichting (Auxerre), Daniel Gygax (LOSC) and Alex Frei (Rennes).