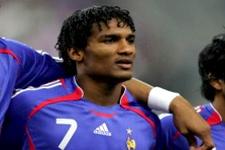 Despite the tiredness and a need to relax after the rigors of a long 2005-06 season, Florent Malouda was present in the OMTV studios to discuss his selection in the 23-man France squad which will travel to Germany for the 2006 World Cup.
Florent, you're in the squad for the World Cup, what was your first reaction to hearing the news?
It was a really great satisfaction, really good news. After a great game last night I had a great morning this morning when the team was announced.

Were you expecting it?
I'd prepared myself for getting picked but I had no guarentees. It's a great satisfaction, but also a great honour to be named.

Did you think you'd be younger before you went to the World Cup?
No. When I was young it really seemed a really long way off. I never thought about it seriously until I earned my first caps in qualifying. After the Cyprus match which qualified us I made it my goal.

What does it mean for you to be named in this squad?
I can't even describe it. Up until now I've only ever sen the World Cup on TV. It's a huge global event, the biggest competition in the world that everyone wants to win.

For the last three years you've been playing top level football with Olympique Lyonnais. Will the World Cup be that different?
Yes. It's a whole other planet. The France team takes it to a whole other level. Even more when you consider it's the World Cup. Every team is hyper motivated to reach one goal: be there on July 9. For my part, I really hope France will be there.

[IMG40556#R]You are in the starting XI for your club and now you've been named in the 23, is your goal now to find a starting role with France?
Yes, that would be amazing but before then theres a whole new preparation to do. First of all we need to relax and have a little break before preparing. After that, anything can happen and I'll be preparing to play.

What do you add to the France team?
If I can bring to France what I bring to OL that would be great. Also, in this type of competition, players often play bove themselves, so I'll be trying t give even more. Raymond Domenech asks me to really let go and have confidence in my qualities. That's what I'llbe trying to do.

What do you think about the 23 names?
It's a great squad, very exciting. This team can be very competitive and I think it has the strengths to go all the way. I also have a little thought for my Lyon teammates who aren't in the list.

Do you already know the calendar of matches?
I know that the first game is on June 13, because that's my birthday. I know the order of the games but not the exact calendar. I just want to play…

[IMG39607#L]Your season started last July. Do you still have enough 'pep' to play in the World Cup?
Yes, at least I hope I do. I had the luck, or rather the bad luck to have been injured during winter which allowed me to have a little break. But above all it's mental. That's why it's so important, after the end of the league season, to made a clean break and come back with a new mental freshness and renewed enthusiasm for a new competition.
Last summer I rested really well. It was the right because the previous season had seen no respite. When we returned to preseason with Robert Duverne it was tough but wethought about the fifth title, the Champions League and the World Cup. It's the final goal for the campaign and I can't wait.

Do you think you can do as well as the only other Guyane World Champion, Bernard Lama?
I really hope so. I'll be looking to profit from his experience like I did when I first arrived in France. I've also spoken a lot with him and he knows what it takes in this competition. He can share that with me and I hope it will see me do as well as he did.

Florent Malouda with France:
10 caps and 1 goal (v Hungary, April 31, 2005, in Metz).
First cap: France-Poland (0-0), November 17, 2004, Saint-Denis.


---
[IMG40557#C]