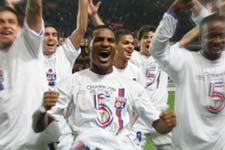 Once again, it's on the hallowed turf of the Stade Gerland that Lyon will draw the curtain down on a record breaking season - a season deserving of a majestic football party against Frédéric Hantz's Le Mans.
To give and take a little happiness before the holidays for some, a World Cup warm-up for others, or perhaps even a final outing in Lyon colours for others. But at any rate, it won't be anything other than a festival of football. And a 25th win of the season, of course, for the quintuple champions of France with style and goals! With the disappointment of Lille and the excesses of Saint-Tropez behind them, Cacapa and Co will all remember that laid their first stone of their fifth consecutive title against Le Mans way back on July 31, 2005. Wiltord opened his season's tally in the 37th minute before Carew settled things in the second half. 36 matches later, Les Lyonnais have 78 more points, 29 more than Saturday's opposition who opened, and will now close this historic campaign.

On Friday after training, the player's distributed their kit to the fans... Tiago ended up in his underwear standing in the rain. And there will be plenty more to sing about during the final 90 minutes of the season. Following the match will be the trophy ceremony, the medals, the hugging, the dancing and, of course, the pitch invasion. There will almost certainly be the traditional 'fully-clothed bath' for certain club staff, before everyone dries off and heads for the Town Hall before the hours will stretch into the new day. Then, with coffee and a croissant early in the morning will come the chance to settle back and reflect on these 10 months of competition filled with 54 official matches , a little more than 36,000 kms of travelling and a good 60 nights spent on the road following, supporting the team.

[IMG40327#R]To bring the curtain down, Gérard Houllier cannot play all 24 players that each earned this unique league title. Only 16 players' names will appear on the team sheet. All the big names that missed the Lille match will most certainly be there as well as Jérémy Berthod whose last game for Lyon was against Ajaccio back on March 6. Suffering from an injured thigh, the full-back return to full fitness but remained with the reserves. It's nice to see him back in the limelight. The final game against Le Mans could also reveal some individual satisfactions. Who, out of Wiltord or Fred will finish as the club's top league scorer? Will Juninho join Cavéglia and Kabongo in the all-time top-ten Lyon goal-scorers charts?

Opposite them, Pelé and Co already assured of finishing top of the three promoted sides will be hoping to confirm their place in the top half of the table, which in itself, is a worthy achievement. They might just need a win to do that. Les Manceaux have gone 8 games without defeat, including 7 draws and their last reverse was back in Week 29… to Lille… 0-4! They possess the second best defence in the league behind Bordeaux. The rely on the qualities of Matsui, Frédéric Thomas, Bangoura… and of course the goalkeeper Pelé who has been so impressive that Europe's top clubs are queuing up for his signature. "Like every match, we'll be playing to win," said coach Frédéric Hantz who did admit however, "that certain players were perhaps already on holidays… We need to be at 100%. Le Mans can only exist as a team... I'm preparing myself for a very tough match."

Allez, may the party be worthy and beautiful, unforgettable and set us on the road to future adventures. We're so used to ambitions, progress and success... without ever giving up...