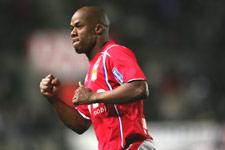 Nominated as one of the best four players in Ligue this year, Sylvain Wiltord has had an exceptional year. He has scored 13 goals in all competitions including 11 in the league and is the club's leading scorer along with Fred.
"Nino": Incredible player and an unequalled competitor. Observers at the club training complex, Tola Vologe can't help but notice his desire to win and the effort he applies to every physical activity. He has a desire, a rage, within himself that has made him a 'big game player'.
He entered into the history books of French football with a last minute equaliser in the final of Euro 2000 against Italy. Since then, the native of Neuilly-sur-Marne has constructed a solid reputation as a regular goal scorer. For prove of his fighting qualities, just look at where his league goals have been scored this season: 1 at the Stade Gerland… 10 away.

A right-footed drive which gave OL an opening day win; a simply 'vital' equaliser against Bordeaux; a superb strike with the left foot to which saw Gérard Houllier's side over the line against Ajaccio; a 93rd minute equaliser against Lens… His decisive strikes this season are there to see.

The fifth best goalscorer in the league and the 10th best assists man, Nino has enjoyed one of the most accomplished seasons of his career. This Wednesday, May 10 2006 he celebrates his 32nd birthday and everyone at Olympique Lyonnais wishes him a very happy one.