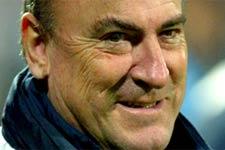 Lyon's assistant coach Patrice Bergues discusses the great feeling within the team training sessions, the professionalism and their insatiable need to have fun...
Patrice, how is training at the moment?
Training's really fun and a little bit surreal like with the wigs they wore yesterday. Still, for the actual work, the players are remaining serious and focused which isn't always the case at the end of season. A little room for fun and joking around can't hurt once in a while.

Is it not a bit hard trying to keep the players focused when there's not much at stake?
Of course it can be a little more difficult. They are professionals and it while it might take a little longer than normal, when push comes to shove, they're quickly focused. The biggest problem comes from the crowds at training. Then the concentration wavers.

Isn't it natural to let go a little at training?
Actually, training is currently based on games and as they hate losing they never give up. There's plenty of desire there, but yes, they are lacking a little in the concentration department.

Is the Lille match already at the fore?
For the moment everybody's still coming down from the derby, while still working seriously. We'll get really stuck on the eve of the match with the aim of winning these final two games and finish the season well to confirm everything we've accomplished.

What will you be saying to the players?
The pleasure for all professionals comes from winning. The best way to continue this joyous period therefore is to win, for themselves and the supporters.