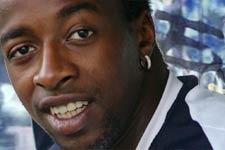 Author of the solitary Lyon goal from the Stade Gerland, Sidney Govou talks about the keys to the Lille match and also discusses the national team for the World Cup and his future...
On Saturday you take on Lille. Everyone remembers the first match between you this season…
I twas our first defeat of the season and took place just befor the winter break. We finished the year on a poor note but it will be different this time. We're champions now and we'll be going there to cut loose.

Does that defeat still rub the wrong way?
Yes. Especially since Lille is a team that has caused us problems in recent years. We have no desire to get this match over and done with. I don't want to rush anything. But things have changed, I repeat: We're champions now and that's an important factor.

Lille are aiming for the Champions League spot so you'll have to be on your toes...
First of all we can't throw away league points. We're competitors as well and we enjoy playing well like we did against Saint-Etienne much more than how we played against Monaco. If enjoying ourselves means having a great game and winning then that's what we'll be looking to do.

On a personal note, do you think you still have time to convince the national team coach to pick you or do you think his choices are made?
You'll have to ask him that question. He says he hasn't decided yet and that means I've still got time. Without having to prove myself, playing well in the final two games certainly can't hurt.

Could we say that this season has been brilliant from a collective point of view, but not necessarily from a personal one?
I don't see it that way. The season has been very long and I've already achieved a lot. I'm not going to change everything for these two final games. I just have to play well, like the whole team.

Certain rumours suggest you're on the move. Will you be going for title number six?
We'll see, but a lot has changed. Before I wanted to leave to improve and move forward, now it's more to experience something new. It's more psychologic than footballistic.

Do you have any regrets?
No. We have a chance to work in an industry where we get to see a lot of things, discover other mentalities. That's what I appreciate. I would regret it if I didn't do it. I think now's the time to do it. Like Robert Duverne says, these are perhaps my best years.

If you were to leave, would not playing in the Champions League be a draw back?
(Pause) I'd love to play it every year of my career but there are choices to make. Before I put top of the list playing in the Champions League for a great club, but now there are other factors to take into consideration and could mean I decide otherwise.