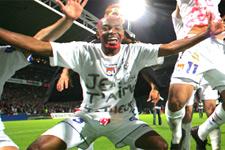 Claudio Caçapa discusses the weekend's victory over Saint-Etienne, the importance of the fans and also the burning desire that has motivated the Olympians for the final games of the season.
Claudio, today marked the return to training after the derby win. Your welcome was more than warm...
That's right. The atmosphere was good. What's more, Tiago was celebrating his birthday. I think he turned 34 today... (laughter). We egged and floured him... it was great!

4-0 against Saint-Etienne is a pretty rare result. What did you make of it?
It's not everyday that you win by a score like that. We were impeccable throughout. To win 4-0 in the derby isn't easy. But we really played the perfect match. We absolutely had to win this match, for us, but also for the fans and the club. We showed we still have the desire to win games.

The supporters deserved that gift because they were once again amazing in Sunday...
Certainly it was a great present but the fans still deserve more. We thought a lot about them before the match and we said before the game that we had to win it for them because they'd been right behind us for the entire season.

The 80-point mark has also been beaten. Now there are two games left including a trip to Lille, a team that still leaves a bad memory…
We'll certainly be motivated for that one. They were the first team to beat us at the Stade Gerland. Therefore, we're obliged to win at their ground. We need to get a result there and we'll be going to win. All the same, it will be a difficult match because they're still on course for third place.

Will we see a focused OL?
Yes. We have a good time at training, but on the field it's different. We've already proved that we're still here and pumped up with the same motivation we had for the first game of the season.